Emerald and diamond necklace
C. 1810 | France | Gold, silver, diamonds, emeralds
This is an emerald and diamond necklace with extraordinary quality and first-class craftsmanship. The exceptional quality of the emeralds and the delicate craftsmanship, typical of the early 19th century, shows obvious resemblance with the jewellery made during the First Empire, by Nitot or Bapst, for Empress Josephine. For nearly 150 years, this magnificent emerald and diamond necklace has been collected by owners from all over the world who have declared outstanding and prominent status.
This necklace was made circa 1810, mounted with a series of nine emeralds. The central cluster has a large emerald drop suspended from a diamond-set scroll mount and flanked by two smaller drops. The emeralds originate from Colombia and the colours are saturated - four of them have no indications of clarity modification and are extremely rare.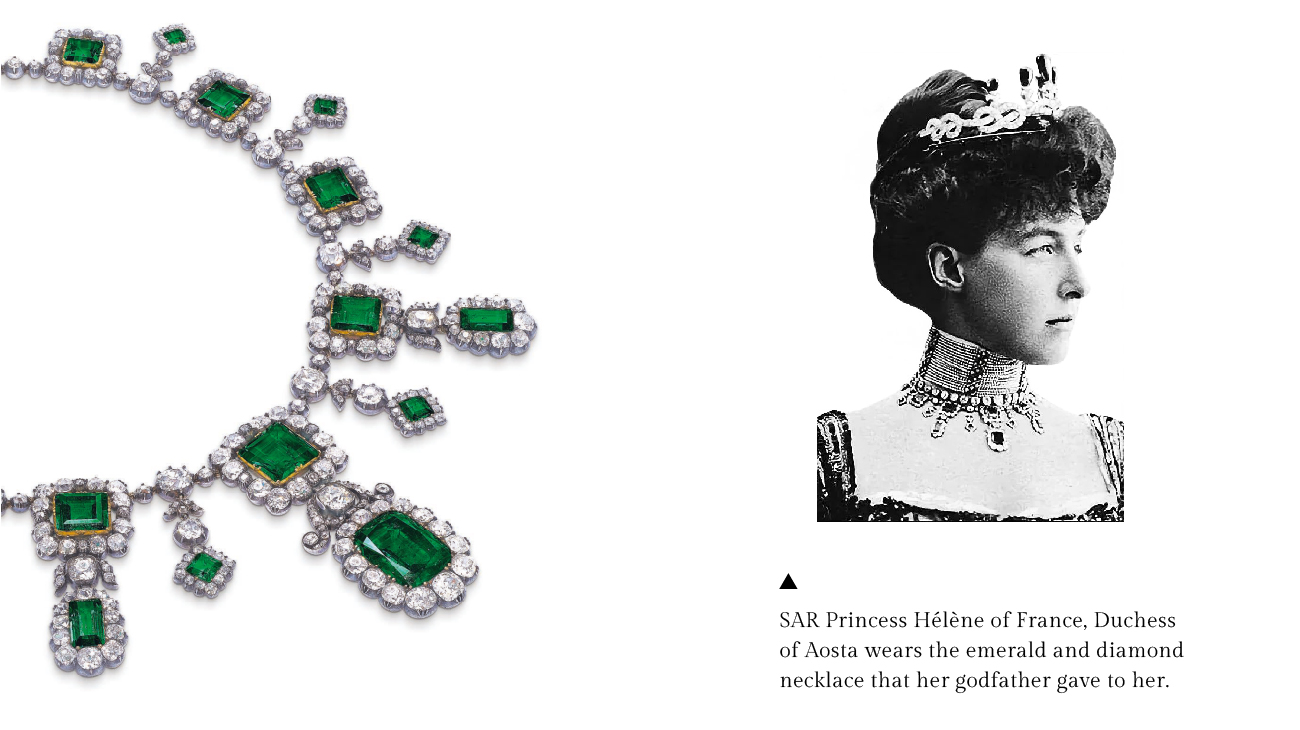 European royal families have a long tradition of giving brides the most beautiful jewellery at weddings. This is especially true when the wedding is a symbolic strengthening of the alliance between different countries. Of great elegance, Princess Helene is rumoured to have been courted by some of the most important European heirs. Her father, the Earl of Paris, was the eldest grandson of French King Louis Philip I. In the end she married Emanuele Filiberto, Duke of Aosta (1869 – 1931), who was the second heir to the Italian throne. Their wedding was an important event in Europe and was reported by much of the international media. Her godfather Henri Eugène Philippe Louis d'Orleans gave her some gorgeous pieces of jewellery, including this precious emerald necklace. This godfather had a very high appreciation of art. He not only collected ancient books, but was also a jewellery admirer and collector. The necklace he gave to Princess Helene most likely came from his private collection.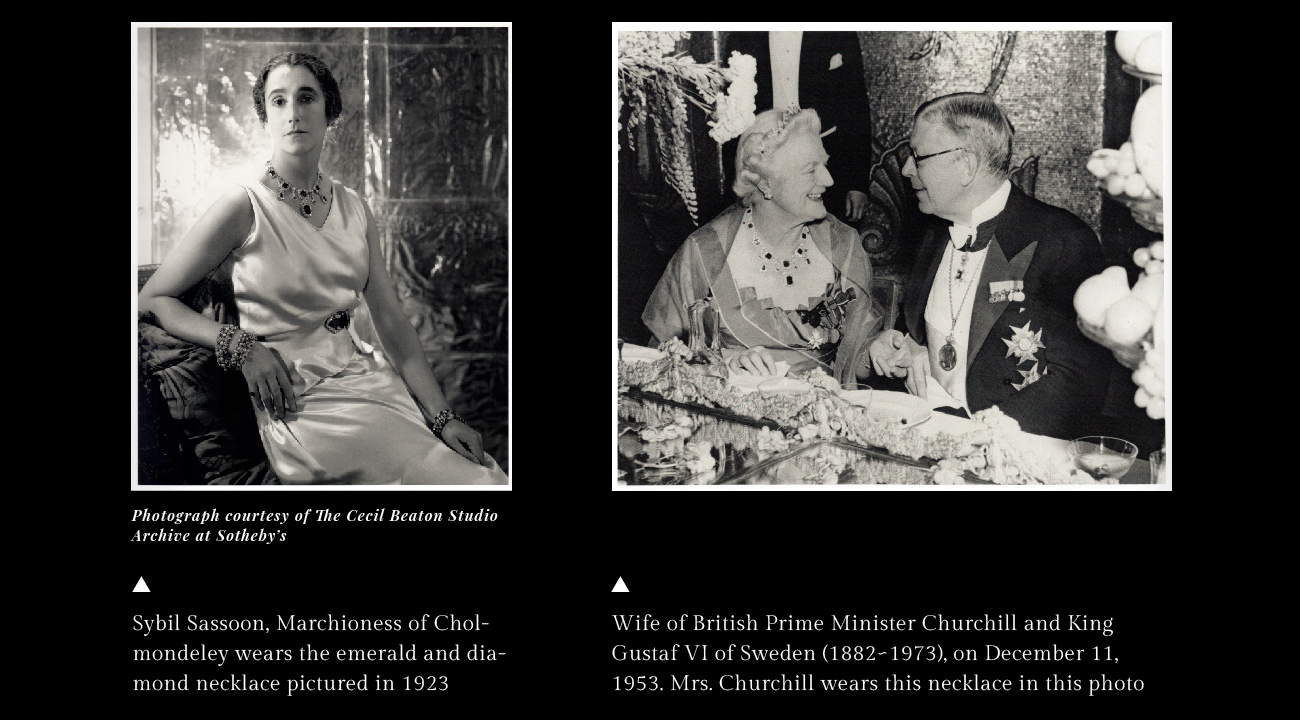 Following the First World War, the necklace changed hands, and was next seen as part of the equally prestigious collection of Sybil Sassoon, Marchioness of Cholmondeley, the daughter of Sir Edward Sassoon and Baroness Aline de Rothschild.
This emerald necklace has also appeared in another photo: Clementine Ogilvy Spencer-Churchill (1885 – 1977), wife of British Prime Minister Churchill, and King Gustaf VI of Sweden (1882 – 1973) were having a conversation together at a dance party in Stockholm City Hall on December 11, 1953. Mrs. Churchill wears this necklace in this photo. This was when Clementine received the Nobel Prize award on behalf of her husband for his Memoirs of the Second World War, as Churchill was unable to attend the award due to his position as prime minister.