Renaissance pendant
C. 1600 | Germany | Gold, diamond, enamel, crystal
This gorgeous Renaissance jewellery is a rare surviving artwork with a strong three-dimensional effect and complex layering. The gold back plate is highlighted with blue, green, red, white, and black enamel, within a carved hollow structure decorated with various plant patterns. The gold Christ Child stands in the centre, accented by white enamel, with one hand holding a Globus Cruciger and the other with a cross, highlighted by a diamond on his chest.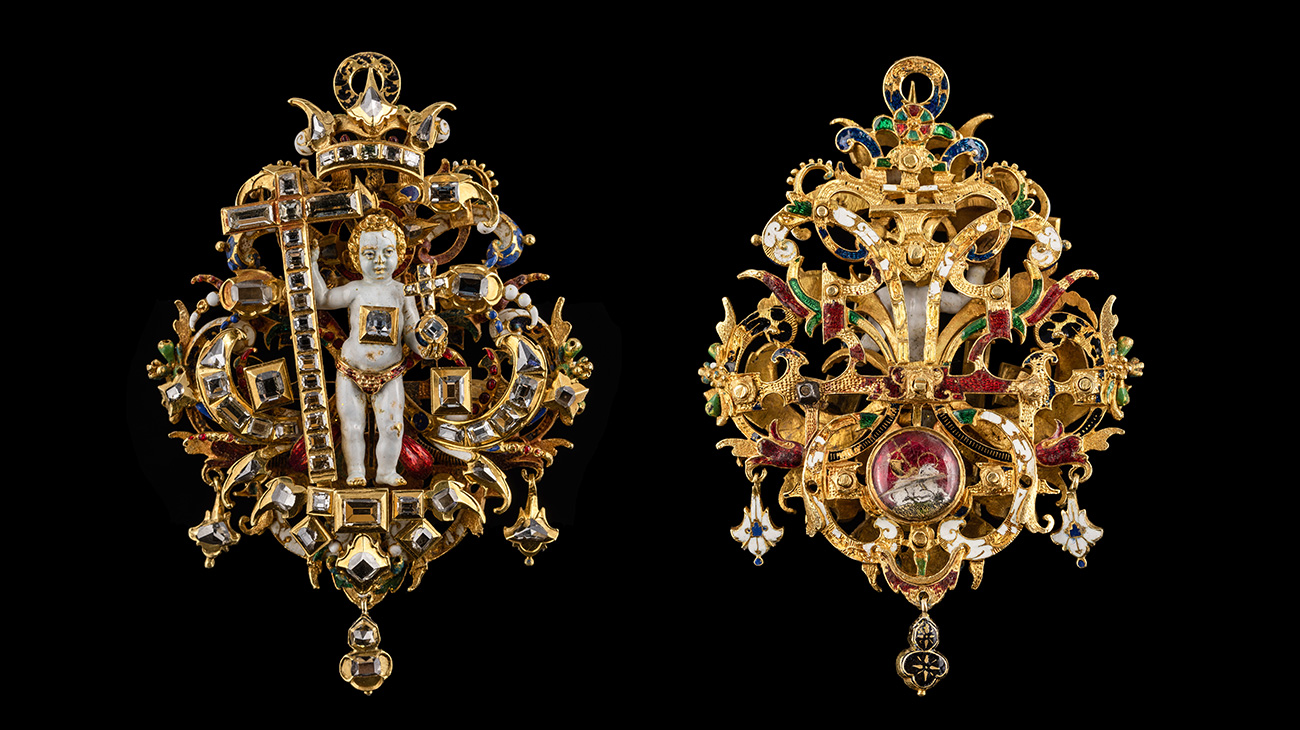 The characteristics of its complex hollow structure and enamel styling are similar to those works of art made in Augsburg around 1600, which was the goldsmith's centre in southern Bavaria, Germany. At the end of the 16th century, the cross-border exchanges among European goldsmiths enhanced the globalisation of jewellery styles. For instance, many goldsmiths who were based in Augsburg actually came from the Netherlands. However, the unique local characteristics still remained, which can be seen in similar artworks collected by the Metropolitan Museum in New York and the Victoria and Albert Museum (V&A) in London. Another piece of Augsburg jewellery that is similar to this rare religious-themed artwork is a pendant highlighted by a diamond cross that is now in Vienna's Kunsthistorisches Museum. In addition, there is also one similarly styled pendant that depicts Cupid holding a bow and arrow, currently preserved by the National Museum of Qatar.
Given its extraordinary size, valuable medium, complicated craftsmanship, and the rare theme of the Christ Child, this is very likely to be a royal treasure customised for the Holy Roman Empire. Such treasures were generally used for the following purposes: as personal items to wear and collect, or gifts for diplomacy or political marriage.