Enamelled musical necessaire set with a watch
Piguet & Capt | 1802 – 1811 | Switzerland | Gold, diamond, pearl, enamel, crystal
The manufacture of a mechanical watch is a comprehensive and sophisticated production process. In the 19th century, a customised watch for the royal family and aristocrats often required the collaborative efforts of watchmakers, goldsmiths, lapidaries, and enamellers, sometimes even the involvement of musicians.
This enamelled musical necessaire set is the most classic work of Piguet and Caput (signed "Piguet & Capt"). Henry-Daniel Capt (1773-1841) and Isaac-Daniel Piguet (1775-1841) worked together from 1802 to 1811. They came from the same village in the Jura Valley and specialised in innovative and unusual watch devices, as well as musical devices installed on watches, snuff boxes and other items. During this period, the two masters of watches jointly completed many exquisite and ingenious clocks—one similar artwork is a music box with dominoes inside, which was originally owned by Queen Victoria of the United Kingdom. After 1811, the two business partners Piguet and Caput parted ways.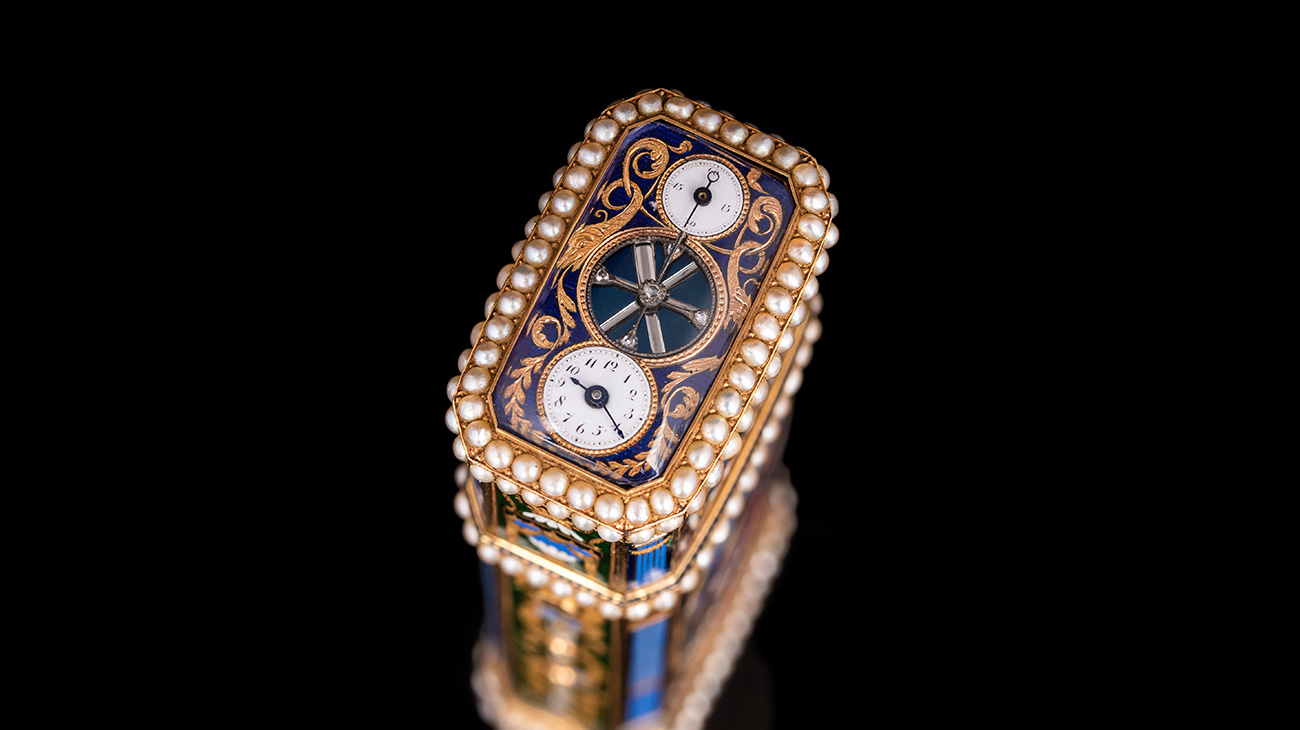 In a space as tiny as a watch, every additional function means a significant increase in complexity. This enamelled musical and watch necessaire set embodies the highest craftsmanship of the time. Its construction is extremely complicated: the top is a small three-hand dial; the middle layer is a storage space for portable gadgets, such as a gold paper cutter and gold winding tool; the bottom is a mechanical musical device containing Cupid, the god of love in classical mythology. After winding, the music box plays beautiful music, and the characters swing with the rhythm. The surface of the musical device is carved with intricate lines, exquisitely painted with enamel and inlaid with pearls.
This artwork was made for Napoleon. The "N" on the bottom of the box is Napoleon's royal coat of arms. The entire piece also presents the court aesthetic of the Napoleonic era in the early 19th century. This subtle installation contains many images of ancient Greek and Roman times. The sides of the cover and base set with taille d'épargne enamelled panels depict a blue serpent and a golden serpent, each entwined around a column hung with flowers, with vase above. The patterns of pillars of the Greek temple were decorated on the four ridges of the clock, symbolising toughness and firmness.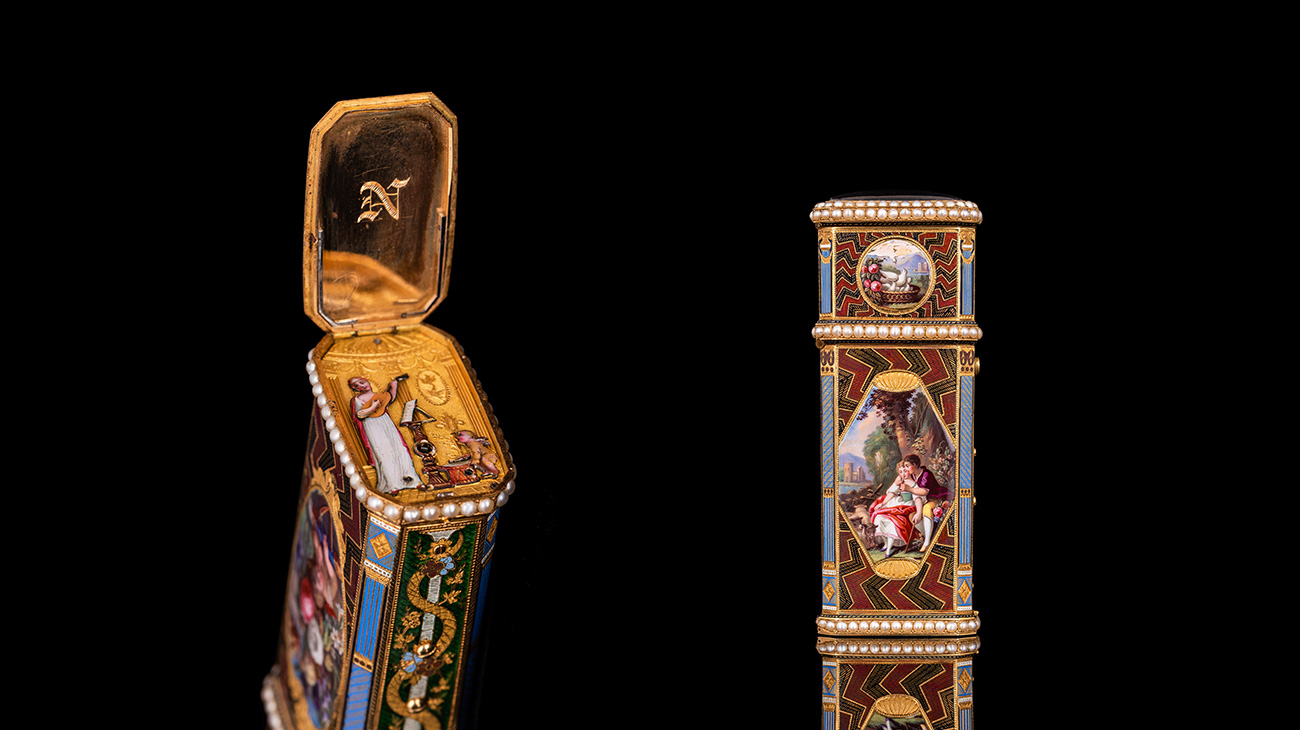 Each side of the piece has a different pattern for the watch owner to appreciate: the main picture on one side shows Cupid, naive and sweet, lying under the flowers, the small picture above shows fruit and flowers—a popular theme at that time; the large picture on the other side shows a shepherdess and a young man in love, and the small one shows pigeons in a nest. Inside the musical device, we can see Venus, the goddess of love and beauty on Mount Olympus, playing music with her son Cupid. The decorative theme suggests that this should be a love token.