Emerald "peacock feather" brooch
Designed by Paul Iribe, made by Robert Linzeler | 1910 | France | Platinum, emerald, sapphire, diamond, pearl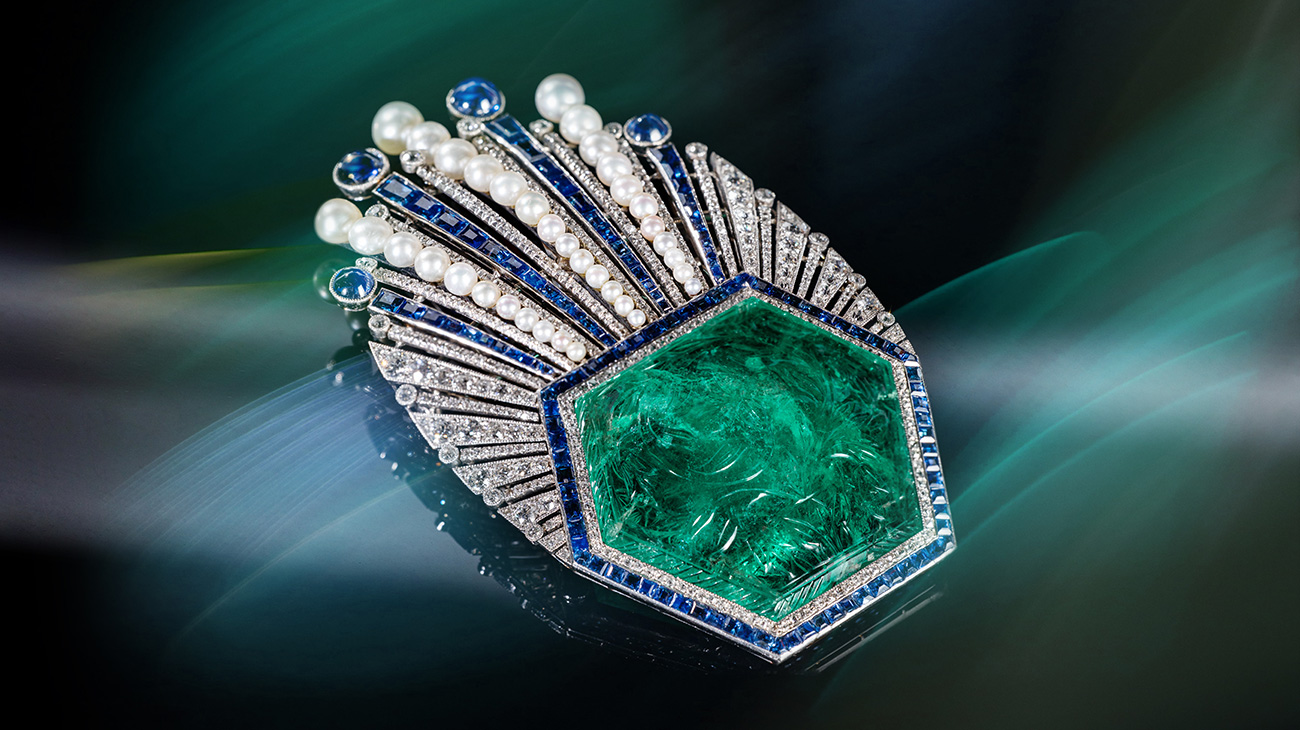 This emerald "peacock feather" brooch was designed by French designer Paul Iribe in 1910 and made by French jeweller Robert Linzeler.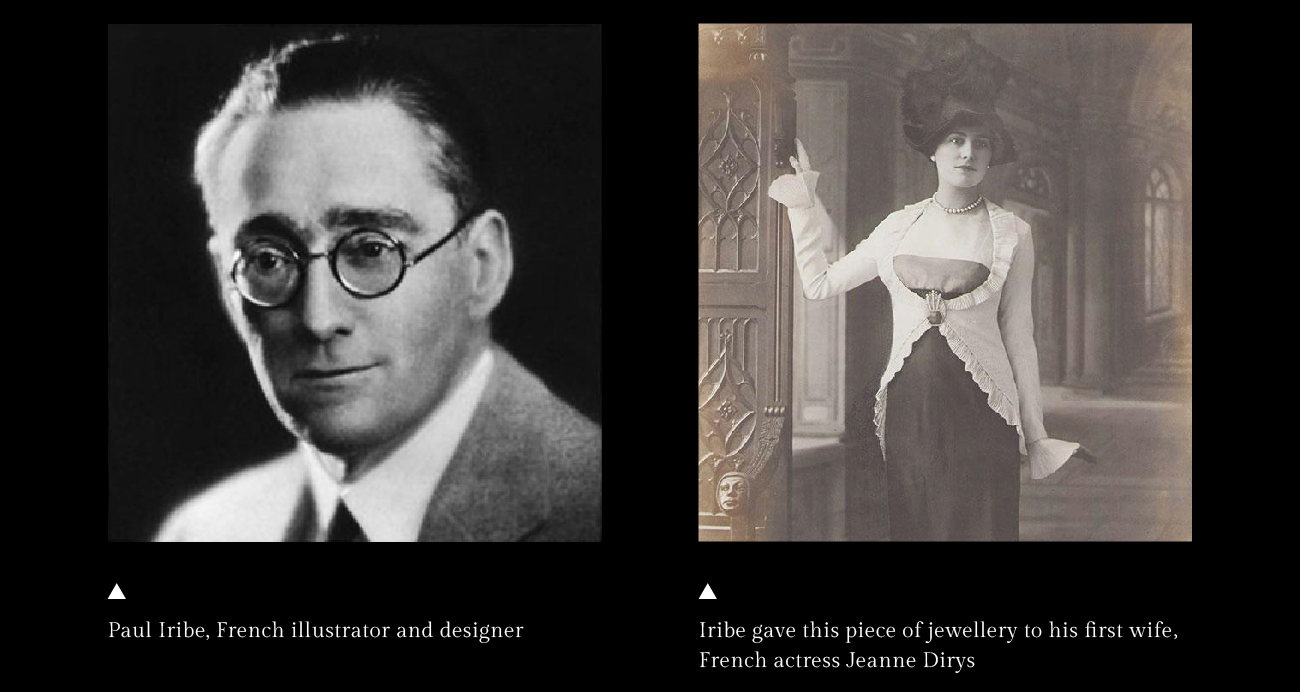 Since the 19th century, the faceted gemstones of the Western style were increasingly sought-after by Indian princes and royal family members. The design concept of 'Indian and the West' represented by this emerald brooch became a fashion trend. In 1910, Iribe used the hexagonal carved emerald as the core and re-embedded it into modern jewellery. This work was the first example of Indian carved emerald inlaid on a modern jewellery frame.
This jewellery was one of the first works that used emeralds and sapphires to present the matching colours of green and blue, which was regarded as a radical innovation in the European jewellery industry at that time. Iribe's creative idea was inspired by the ballet "Scheherazade". The dance drama based on the life of ancient Arabian society was influenced by Orientalism. The set and costume design featured bold and contrasting colours to highlight the exotic aura of the East in the eyes of Westerners. In 1910, the play premiered in Paris and achieved great success, which also influenced Iribe's use of colour in jewellery design.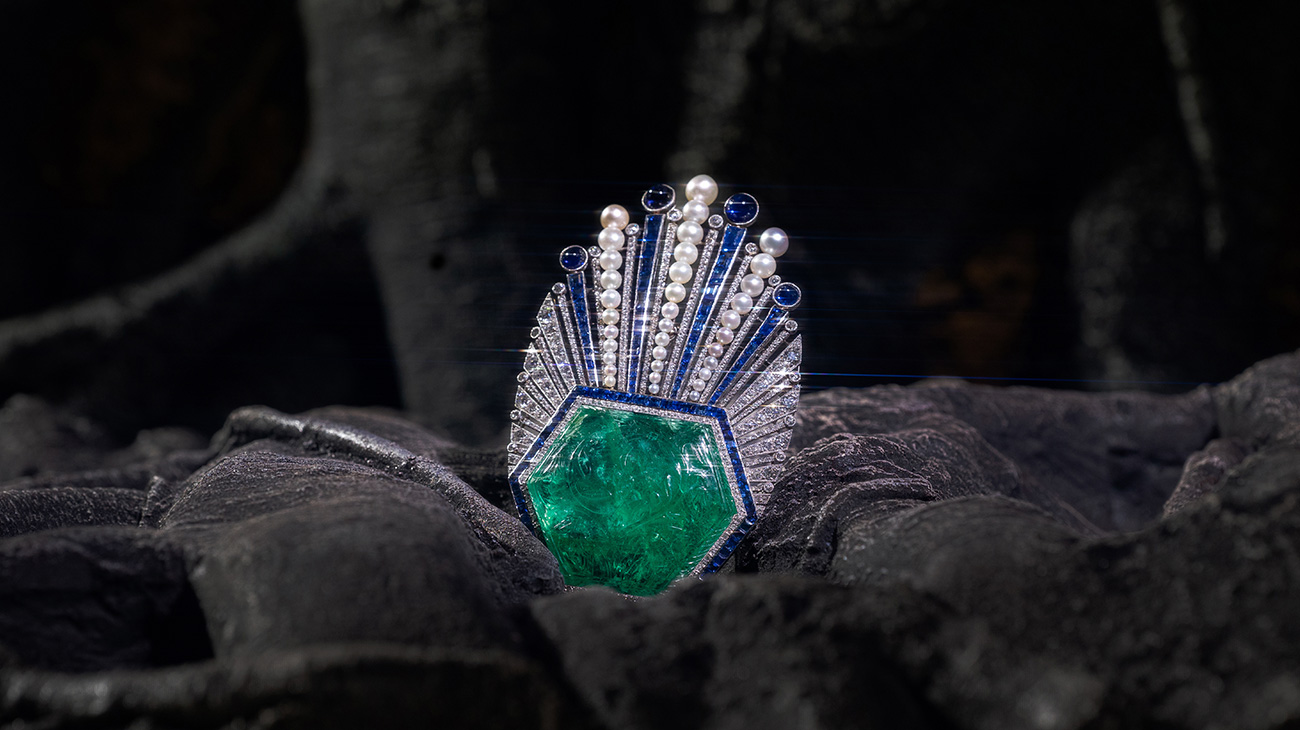 This emerald brooch can be detached into two parts and worn separately: one is the hexagonal carved emerald, the other part contains the jewellery plume, a platinum frame and a brooch on the back. The heron feathers mounted with diamonds, pearls and sapphires, the inspiration for which came from the traditional Indian aigrette. The tradition of wearing it goes back to the Mongols, the ancestors of the Mughal Empire rulers.
Iribe interprets the mechanical aesthetics of the industrial age through radial geometric shapes, exquisite and luxurious materials, and the absorption of exoticism. This aesthetic permeated all fields of design rapidly and swept across Europe and the United States in the following years, confirming its status as an art style, i.e., Art Deco that flourished in the 1920s and 1930s. The straight lines and geometric shapes, novel and gorgeous materials, and exotic elements of this emerald brooch are the iconic language of Art Deco.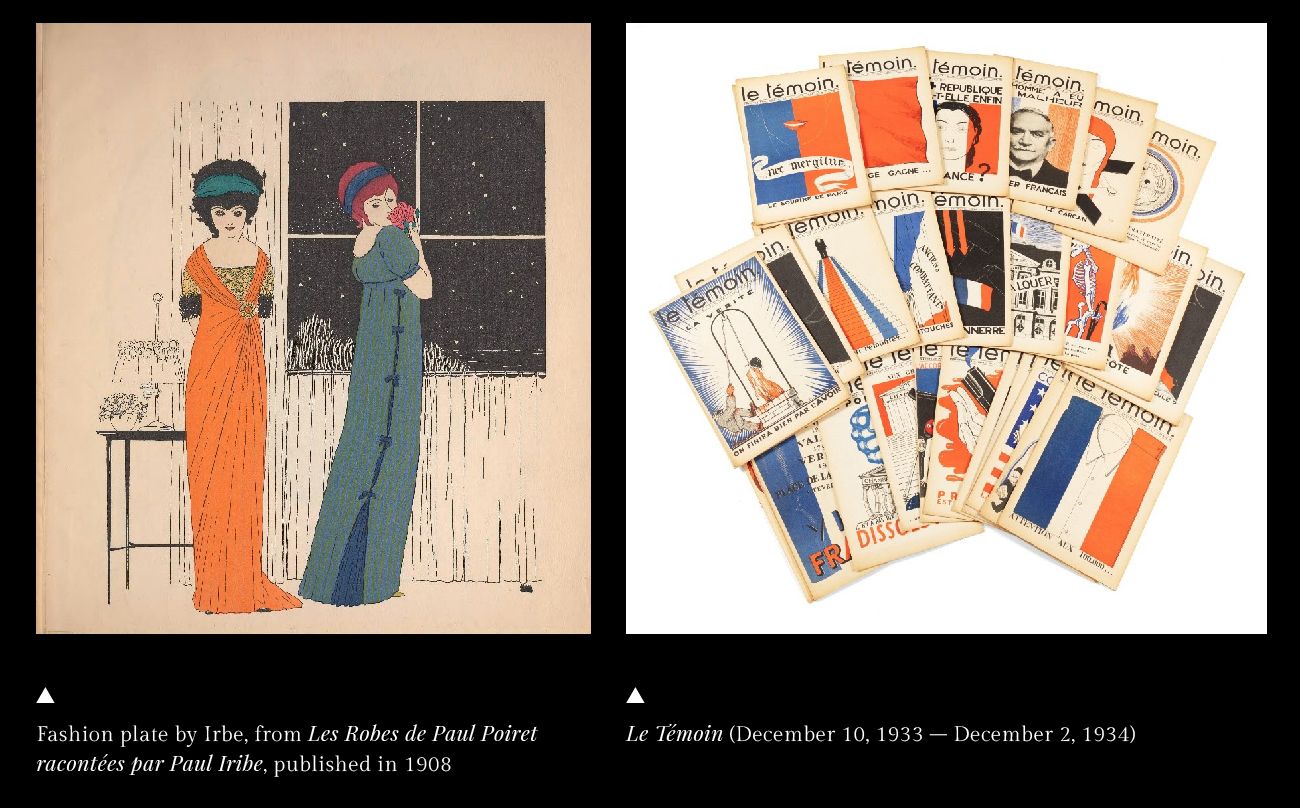 Fashion designer Coco Chanel was Iribe's lover, muse and sponsor. Engaged to Chanel, Iribe was the only one who made that kind of commitment among all the men Chanel had ever dated. Under the proposal of Iribe, Chanel financed the second publication of his journal, Le Témoin in 1932. Iribe collaborated with Chanel in the design of extravagant jewellery pieces in 1933 and exhibited them to the public in the same year.